Learn
"Years and years ago Gijs Anders dove into the world of Percussion only to surface with first hand knowledge of Rhythm, Culture, Musical Styles and a variety of Techniques. In his methodology he inspires us by sharing insights in how to adept age-old wisdom, musical theory and a musicologist's scientific research into creating real live musical performances with groove, energy and spirit."
Joshua Samson, percussionist, recording and live artist
'When we play, we play!'
Besides my live and studio work, I love to teach! Throughout the years I worked with hundreds of students, between the ages 5 and 70, all within their own pace, level and wishes. It's a great privilege to share with you my insights and methods that I've learned and used myself in my own playing. Teaching is always new and everytime a huge inspiration!
Private lessons
Drink a coffee, have a sandwich and learn! Lessons are taught one on one or in small groups at my studio or home.
Percussion
Afro-Cuban, Brasilian, West African, Indian, jazz and pop percussion. Instruments include surdo, tambourim, congas, bongo, clave, shekere, timbales, cowbells, triangle, pandeiro, shakers, tambourine, cajon, udu, ghatam, framedrums and many more from all around the world. All playing techniques, traditional and modern!
Music Theory
Reading, Harmony, Rhythm, Melody. All you need to become a total musician!
Drums
Jazz, Latin, Pop, Rock. All sorts of styles, technique, sight reading.
Cultural Musicology
Knowing about the cultural and social backgrounds of the music you study can be a big advantage. Learn about the way instruments are build, what the meaning of the rhythms is, how music is constructed and much more!
Group Lessons
Playing music is a social activity and what better way to learn percussion than to play with someone else or in a group! The workshops and clinics are a perfect way to get to know the music, build your confidence and get to know people!
Workshops
Ideal for everyone, from drum- and percussion students! The workshops are for everyone who wants to expand their musical horizon and want to explore the fascinating world of rhythm. Learning about the grooves from Brasil or Mali, the South-Indian spoken percussion or the structures inside a symphony orchestra; every workshop is custom made and unique!
Clinics
The clinics are all about playing! In this setting I cover a lot of different topics, ranging from playing techniques on various percussion and drums, tuning, composing multi-layered tracks, history and a lot more! It is always a real treat to be amongst likeminded and enthousiastic musicians!
The workshops and clinics can vary from one to two and a half hours and can easily be combined. Instruments for up to 200 people are included. 
Concept for the New Percussionist 4/4 & 12/8
The last twenty years I wrote for students and myself exercises for all kinds of percussion instruments, because often some specific information was difficult to find or it simply wasn't avalaible at all. The result is an innovative learning method that addresses such issues as rhythmic structures, techniques and timing.
"Concept for the New Percussionist 4/4 & 12/8" focuses on advanced and professional players, who have a background in more traditional genres like Latin, Brazilian and West African music, but want to translate their ideas, grooves and sounds to jazz, improvised music, pop and other genres. The system includes simple and advanced rhythmic structures, musical styles and techniques in the signatures 4/4 and 12/8.
The book leaves room for the musician to work freely with the material and gives the student the freedom to interpret and work with it in any way and on any instrument and is therefore a treasure to study endlessly from. A large collection of percussion is also discussed including various hand drums, cajon, udu, pandeiro and much more.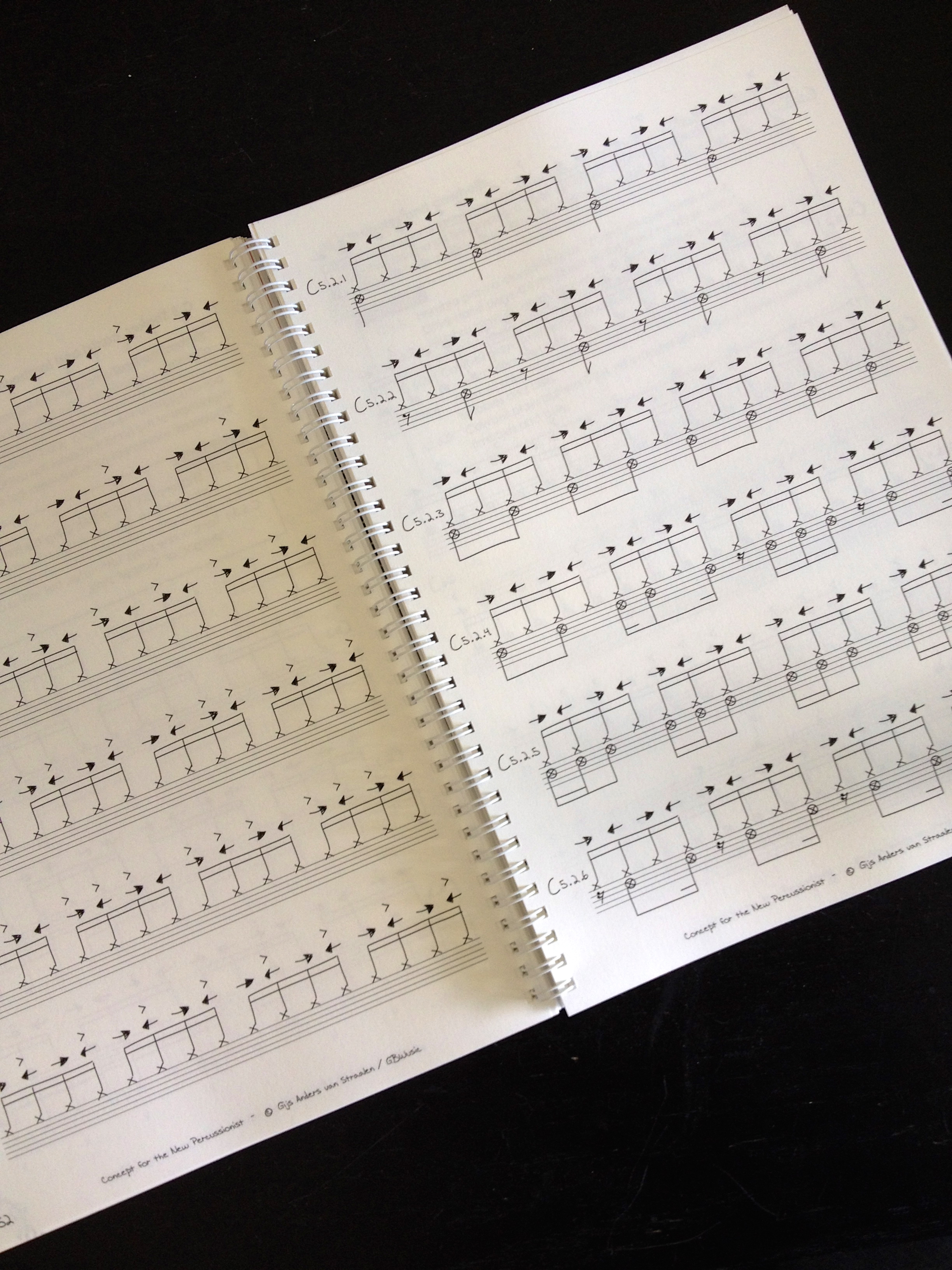 "Concept for the New Percussionist, 4/4 & 12/8"
is in English and contains pictures of all instruments.
It is available in book form through 
www.GBWusic.com or send me an email.